Starbucks 4 New Holiday Cups Has Arrived
Four new holiday cups, plus a first-ever reusable cup, is in stores starting today.
The Full Story:
Starbucks holiday cups are in stores starting today
There are four cups in all, which the chain describes as "retro," noting they are inspired by the company's "heritage"
They are also handing out free reusable cups today to anyone ordering a holiday beverage, and anyone who reuses them will get 50 cents off their drink order
We're officially in November, which means it's time to start thinking about the holidays, and Starbucks is already in the holiday spirit. Starting today, Starbucks is debuting their annual holiday cups, and thankfully, it seems there won't be any controversy surrounding this year's selections.
While previous holiday cups have gotten folks in an uproar, this year's designs have a simple holiday theme, with four cups in total, all in shades of red and green. A press release describes the cups as "retro," noting they are inspired by the company's "heritage." This year's options include:
"Stargyle" – a green cup that incorporates the stars from the Starbucks Siren's crown.
"Stripes" – a red and white cup with a design that mimics the seam on the back of a Starbucks cup.
"Flora" – a red, white and green cup with holly, that's inspired by "coffee cherries."
"Espresso Houndstooth" – A red cup inspired by flames that roast coffee.
And that's not all. For the first time, Starbucks is also introducing a re-usable holiday cup in red. Anyone who orders a holiday drink today will get it for free, and if they reuse it between November 3rd and January 7ththey'll get 50 cents off their drink.
But cups aren't the only way Starbucks is getting into the holiday spirit. They've also introduced three new holiday snacks – Pistachio Honey Croissant, Sugarplum Cheese Danish and Chocolate Swirl Brioche. In addition, traditional holiday flavored beverages will return starting today, including Peppermint Mocha, Toasted White Chocolate Mocha, Caramel Brulée Latte, Chestnut Praline Latte, Gingerbread Latte and Eggnog Latte. So far no new holiday beverages have been announced.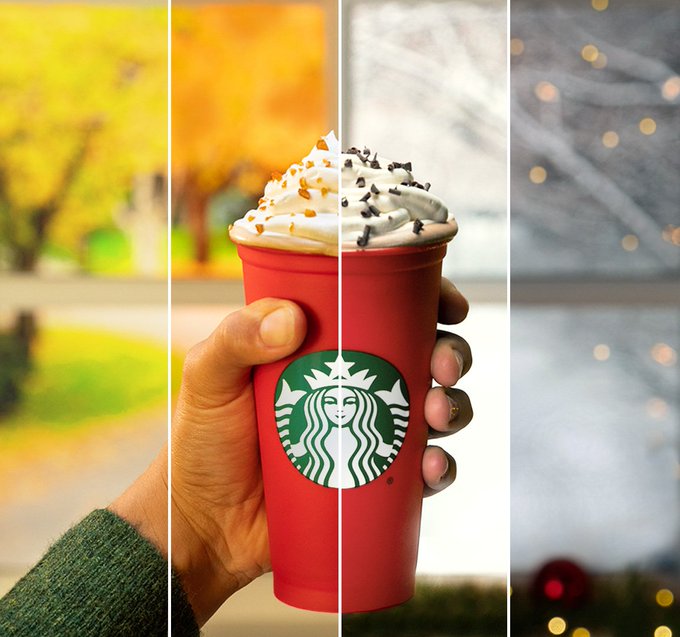 Starbucks Coffee

✔

@Starbucks

Introducing the limited-edition #Reusable #RedCup! Tomorrow (Nov. 2), get yours for free with the purchase of any holiday drink, and celebrate all season long. (US + Canada, at participating stores while supplies last.)

7:00 AM - Nov 1, 2018
Starbucks News

✔

@Starbucksnews

Holiday magic arrives at @Starbucks stores tomorrow https://sbux.co/2OiwdzQ